On Tuesday, April 29, Judy Caruso, the principal investigator of a national study on how undergraduates use technology will deliver a "Brown Bag" presentation at noon, followed by focus groups with students at 4, 5 and 6 p.m.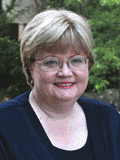 For the past two years, UMBC freshmen and seniors have participated in Undergraduates and IT conducted by the Educause Center for Applied Research (ECAR). UMBC is also participating in this year's ECAR study.
During a Teaching, Learning and Technology (TLT) Brown Bag workshop Caruso, who is Director of Policy and Planning in the CIO's Office at the Univ. of Wisconsin-Madison, and co-principle investigator for the 2008 study, will share the 2007 study's key findings, and talk about what she's learned from five years of studying the nation's undergraduate technology trends.
FYI: UMBC's Past ECAR Study Results


FYI
: This workshop will be broadcast via the USM's
Interactive Video Network
(IVN). The conference code is 800841
Later in the afternoon, Caruso will conduct focus groups with UMBC students about their technology use to inform the 2008 study. If you are a UMBC undergraduate, and would like to participate in a focus group at 4, 5 or 6 p.m. on Tuesday, April 29 (food will be provided).
NOTE: Undergraduate students who register for and attend a focus group will be eligible to win an iPod Touch. Each participant will receive a ticket for the iPod drawing, which will take place after the 6 p.m. focus group is finished. If you can't be present for the drawing, an OIT staff member will put your ticket in the drawing and you will be notified if you win.
Posted by John Fritz on March 31, 2008 4:23 PM | Permalink