Health Education
---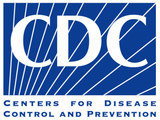 The Centers for Disease Control and Prevention (CDC) issued a warning to avoid nonessential travel to the West African nations of Guinea, Liberia, and Sierra Leone. This Level 3 travel warning is a reflection of the worsening Ebola outbreak in this region. For more information, please visit the website link provided. 
---
Add your event to our calendar!
If your student organization or class is hosting an event related to Relationship Violence Awareness sometime during the month of October, please contact pirizarry@umbc.edu to have your event added to our official Calendar of Events for RVAM, sponsored by University Health Services and The Women's Center. We always welcome collaboration! All event details must be submitted by September 12th.
---
New Resource for College Campuses
A new website resource is available to all college campuses. It provides information for students, schools, and anyone interested in finding resources on how to respond to and prevent sexual assault on college and university campuses and in our schools. Visit the website to find a crisis service, learn more about your rights and how to file a complaint, and view a map of resolved school-level enforcement activities.
"Sexual violence is more than just a crime against individuals. It threatens our families, it threatens our communities; ultimately, it threatens the entire country. It tears apart the fabric of our communities. And that's why we're here today -- because we have the power to do something about it as a government, as a nation. We have the capacity to stop sexual assault, support those who have survived it, and bring perpetrators to justice."
-- President Barack Obama, January 22, 2014 
"Freedom from sexual assault is a basic human right… a nation's decency is in large part measured by how it responds to violence against women… our daughters, our sisters, our wives, our mothers, our grandmothers have every single right to expect to be free from violence and sexual abuse." 
-- Vice President Joe Biden, January 22, 2014
Want more info? UMBC Resources for Sexual Assault & Relationship Violence include:
---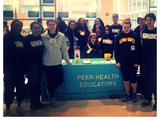 Applications Due April 30th
University Health Services is now recruiting applicants for the PeerHealthEducationprogram for Fall 2014!  
The PeerHealthEducation Program is made up of undergraduate students from a wide range of academic backgrounds. The Peers are requested to go around campus to residence halls, classrooms and student organizations to give presentations on different health topics pertaining to college students (ie. stress, alcohol & drug use, nutrition, safer sex, etc). The Peers also participate in a variety of events on campus by the request of other departments or events sponsored by University Health Services (ie. tabling in The Commons for an awareness month).
Aside from the main work that you would do as a PeerHealth Educator, this program is also a great opportunity for you to build upon your public speaking skills, enhance your interpersonal communication skills, meet new people from across campus, network with different student organizations and departments, master your team-building skills, add a valuable piece to your resume/CV, and have fun while learning!
Each student in the program will receive 3 upper level credits per semester for being a Peer (you can be in the program for up to 4 semesters in a row) and will be able to register for the class if and when we have accepted you into the program. The credits are given out through the Social Work department. Please note that as an incoming peeryou are required to take a once-a-week class where you will be trained on all of the different health topics. The class will be held on Wednesday's from 4:00-7:00pm in the Fall 2014 semester. You would be dedicating approximately 3-6 hours a week (class included) to this program and each week can vary depending on the amount of events we have and on your own schedule. If the class time does not fit your schedule, we would encourage you to keep our program in mind for the following year as we try to take new applicants every semester.
If you would like to see an example of projects and events that the Peer Educators put on, stop by one of our upcoming events and introduce yourself so we know who you are :-) You can find a listing of our events on our myUMBC groups page. 
We would also highly encourage you to stop by our information session about the Peer Health Education program on Wednesday, April 23rd during free hour (12-1pm) in the Health Education office – located next door to University Health Services on the ground floor of Erickson Hall. We will have applications available there and you can chat with current students in the program and ask any questions you may have.
An  application  is attached to this posting. If  you  are still interested, please fill it out and return it to our Health Education Coordinator, Mickey Irizarry, by the due date of Wednesday, April 30th. Our selection committee will go through all applications and choose to invite a certain number of students in for an interview. Final selections will be made by May 16th. Please contact Ms. Irizarry if you have any questions at pirizarry@umbc.edu or (410) 455-3752.
---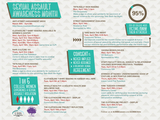 2014 Calendar of Events
April is Sexual Assault Awareness Month.
Every 2 minutes, someone in America is sexually assaulted.
1 in 5 college women experience a sexual assault.
95% of college-aged victims know their attacker.
These are just a few statistics to highlight why this month of awareness is so very important for our campus and our greater community. 
We have several events this April that will 
honor the voices and experiences of survivors of sexual assault. Additionally, there are  events that will seek to raise awareness about sexual assault and the importance of effective consent.
The event calendar is attached to this news story. Please feel free to download, mark your calendar with the events you plan on attending, and share the word with other students, staff, and faculty.
Highlighted Events:
Rape Culture 101 Workshop: Thursday, April 3rd from 4-6pm in Lower Level Flat Tuesdays 
The Clothesline Project Display
: Thursday, April 10th on Commons Main Street from 10am-4pm, followed by a discussion at 4pm in the Women's Center. (Opportunities to make shirts for the display will be made available on several occasions leading up to the 10th... see calendar for details)
Follow #UMBCaware and #UMBCtbtn for updates throughout the month. 
If you have questions about any of the listed events or about sexual assault resources, please contact Jess Myers, Women's Center Director, at 
jessm@umbc.edu
, 410-455-2714 or Mickey Irizarry, Health Education Coordinator, at 
pirizarry@umbc.edu
, 410-455-3752