Health Education
---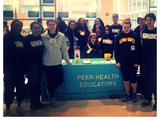 Applications Due April 30th
University Health Services is now recruiting applicants for the PeerHealthEducationprogram for Fall 2014!  
The PeerHealthEducation Program is made up of undergraduate students from a wide range of academic backgrounds. The Peers are requested to go around campus to residence halls, classrooms and student organizations to give presentations on different health topics pertaining to college students (ie. stress, alcohol & drug use, nutrition, safer sex, etc). The Peers also participate in a variety of events on campus by the request of other departments or events sponsored by University Health Services (ie. tabling in The Commons for an awareness month).
Aside from the main work that you would do as a PeerHealth Educator, this program is also a great opportunity for you to build upon your public speaking skills, enhance your interpersonal communication skills, meet new people from across campus, network with different student organizations and departments, master your team-building skills, add a valuable piece to your resume/CV, and have fun while learning!
Each student in the program will receive 3 upper level credits per semester for being a Peer (you can be in the program for up to 4 semesters in a row) and will be able to register for the class if and when we have accepted you into the program. The credits are given out through the Social Work department. Please note that as an incoming peeryou are required to take a once-a-week class where you will be trained on all of the different health topics. The class will be held on Wednesday's from 4:00-7:00pm in the Fall 2014 semester. You would be dedicating approximately 3-6 hours a week (class included) to this program and each week can vary depending on the amount of events we have and on your own schedule. If the class time does not fit your schedule, we would encourage you to keep our program in mind for the following year as we try to take new applicants every semester.
If you would like to see an example of projects and events that the Peer Educators put on, stop by one of our upcoming events and introduce yourself so we know who you are :-) You can find a listing of our events on our myUMBC groups page. 
We would also highly encourage you to stop by our information session about the Peer Health Education program on Wednesday, April 23rd during free hour (12-1pm) in the Health Education office – located next door to University Health Services on the ground floor of Erickson Hall. We will have applications available there and you can chat with current students in the program and ask any questions you may have.
An  application  is attached to this posting. If  you  are still interested, please fill it out and return it to our Health Education Coordinator, Mickey Irizarry, by the due date of Wednesday, April 30th. Our selection committee will go through all applications and choose to invite a certain number of students in for an interview. Final selections will be made by May 16th. Please contact Ms. Irizarry if you have any questions at pirizarry@umbc.edu or (410) 455-3752.
---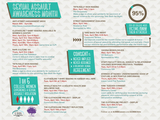 2014 Calendar of Events
April is Sexual Assault Awareness Month.
Every 2 minutes, someone in America is sexually assaulted.
1 in 5 college women experience a sexual assault.
95% of college-aged victims know their attacker.
These are just a few statistics to highlight why this month of awareness is so very important for our campus and our greater community. 
We have several events this April that will 
honor the voices and experiences of survivors of sexual assault. Additionally, there are  events that will seek to raise awareness about sexual assault and the importance of effective consent.
The event calendar is attached to this news story. Please feel free to download, mark your calendar with the events you plan on attending, and share the word with other students, staff, and faculty.
Highlighted Events:
Rape Culture 101 Workshop: Thursday, April 3rd from 4-6pm in Lower Level Flat Tuesdays 
The Clothesline Project Display
: Thursday, April 10th on Commons Main Street from 10am-4pm, followed by a discussion at 4pm in the Women's Center. (Opportunities to make shirts for the display will be made available on several occasions leading up to the 10th... see calendar for details)
Follow #UMBCaware and #UMBCtbtn for updates throughout the month. 
If you have questions about any of the listed events or about sexual assault resources, please contact Jess Myers, Women's Center Director, at 
jessm@umbc.edu
, 410-455-2714 or Mickey Irizarry, Health Education Coordinator, at 
pirizarry@umbc.edu
, 410-455-3752
---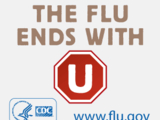 Healthy young adults get the flu too. Find out how to protect yourself and your friends. 
Easy steps to follow:
Get vaccinated if you haven't already
Wash your hands regularly with soap and water
Cover your cough/sneeze with a tissue or your arm sleeve
If you are sick, stay home from school and work to avoid spreading the illness to others
---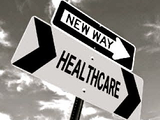 Enroll by February 15 for coverage starting March 1
HealthCare.gov is your best source of information about the Marketplace. You can read information 
that pertains to you, print checklists, and watch videos to help you to apply and enroll. 
You can explore every qualified health plan in your area, and fill out an application 
when you're ready. You'll be able to take control with better information, including details about 
benefits and prices presented in clear language you can understand, so you'll know what your 
premiums, deductibles, and other costs will be before you make a choice. 
Want help or need more information? 
As you explore your options on the Marketplace, you may want to get some help. You can participate 
in an online web chat on the website; or call a toll free number, 1-800-318-2596 (TTY: 1-855-889-
4325), to speak with a trained customer service representative; and there will be people close to
campus who can give you personal help with your choices. 
Visit HealthCare.gov now to get all the information you need about the Marketplace. 
University Health Services can also meet with you to discuss healthcare options and our student health insurance plan. To talk with a health insurance specialist at UHS, call 410-455-2542. 
---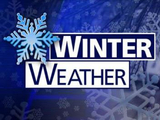 The polar vortex may be starting to leave our area, but that doesn't mean we're out of the cold just yet. Winter weather predictions for this season in Maryland show frigid temperatures and extreme weather conditions continuing through March. It is important to take precaution in these circumstances to make sure you and your family, friends, pets and home are all safe. 
Check out the CDC's Extreme Cold Prevention Guide and Winter Weather article attached to this post.  
If you see a homeless person out in the cold, practice your Green Dot skills and report them to a local hotline so they can be taken to a shelter. In the Baltimore area, you can call 311, and in Washington DC area, you can call the hypothermia hotline at 1-800-535-7525. 
Feeling sick or under the weather? Get checked out at UHS! We are open throughout the winter term with normal hours, Mon-Fri, 8:30am-5pm.