Health Promotion
---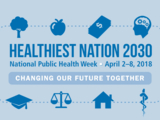 Join UMBC's team for National Public Health Week!
Are you ready to get moving toward better health in 2018? American Public Health Association's 1 Billion Steps Challenge helps build excitement for National Public Health Week 2018 and is the perfect opportunity to promote health and well-being in our community.  
The Steps Challenge officially kicks off on Jan. 1 and runs through April 8. To help you get moving, all Challenge participants receive free access to Stridekick's fitness-tracking platform.
Ready to get stepping? Join our UMBC Wellness Initiative Team (code: 77zm2) here.  You'll need to sign up for an account and select your tracking device.  This tracking platform is compatible with most fitness tracking devices and your iPhone or Android smartphone.  
Start tracking those steps and let's shoot for 1 billion!  
For any questions, please contact us at wellness@umbc.edu.  
---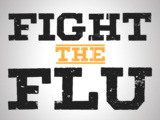 Check these tips out to prevent getting the flu this season!
Click here for a letter from the Director of Health and Wellness at UMBC about the Spring 2018 Influenza Season.
Get Vaccinated 
Make an appointment with your doctor or go to a local clinic for your flu shot! 
Cover Your Cough
Sneeze and cough into your elbow or a tissue! 
Wash Your Hands
Wash your hands with soap and clean running water for about 20 seconds. Keep hand sanitizer around you too! 
Stay Home
If you don't feel well, stay home and make an appointment at UHS or with your doctor. 
Avoid Touching Your Face
Especially your eyes, nose, and mouth to prevent spreading of germs. 
Symptoms of the flu include:
Fever/Chills
Cough
Sore Throat
Runny or Stuffy Nose
Muscle or Body Aches
Headaches
Fatigue
Not feeling well? Call UHS at 410-455-2542 to make an appointment! 
---
Dear Members of the UMBC Community,
I'm reaching out to raise your awareness of this year's influenza (flu) season. According to the CDC and the Maryland Department of Health and Hygiene, there has been widespread flu around the country and the state, and University Health Services has documented cases of influenza on campus since November 2017. The flu is a respiratory illness with sudden onset of symptoms that can include a fever of over 100ºF, body aches, sore throat, headache, and cough.
This is an important time for us all to take some simple actions to protect ourselves and minimize the impact of the flu on our community. 
Get a flu shot, it is not too late! UHS gave out 450 flu shots this season and while we do not have any more shots, they are available throughout the community.

Wash your hands frequently and use hand sanitizing stations located around campus.

Avoid those who are ill, if you can.

Clean surfaces that you or others touch frequently in your room and/or office with anti-bacterial cleaner (bleach wipes are effective).

Cover your mouth and nose with a tissue when you cough or sneeze. If you don't have a tissue, cough or sneeze into your upper sleeve--not your hands--and wash your hands immediately.

Avoid touching your face, whether you are ill or healthy; it spreads germs.

Avoid sharing food, utensils, cups, and water bottles.
The treatment for influenza for healthy people is mostly "supportive," meaning rest, plenty of fluids, and fever-reducing medication as needed. Antiviral medications may be indicated, especially for students, faculty, and staff who have chronic medical problems (e.g., asthma or diabetes) and can be discussed with your primary care provider. Antiviral medications are most effective if started the 

within 48 hours

 of developing flu symptoms.
If you are sick, stay home and in bed. Avoid crowded places like dining halls, classrooms, restaurants, and the RAC or other fitness centers to prevent spreading illness to others. If you are sick, ask a friend to care for you.

Take fever reducers like acetaminophen (Tylenol), ibuprofen (Advil), or naproxen (Aleve) if you do have a fever. If your fever persists for more than three days in spite of taking these medications, please seek medical care.

Drink lots of fluids.

If you have been diagnosed with the flu and develop shortness of breath and severe fatigue, call your health care provider or go to an emergency room.

University Health Services is here to answer any questions you may have. Please feel free to contact us at 410-455-2542 for medical advice or further instructions and information. For more information about the flu, visit the Maryland Department of Health website.



Bruce

 Herman, Director, University Health Services and Counseling
---
We are open!
If you're on campus and not feeling well, don't hesitate to call us! 
Our hours are the same as during the semester:
Monday - Friday
8:30am - 5pm
Call 410-455-2542 to make an appointment! Don't forget your ID and Insurance card when you visit!
---
#YourUMBCUHS #WelcomeRetrievers
Welcome New Retrievers!!!
We are so excited to have all of our new students joining our UMBC Community this year. Over the summer you should have completed Alcohol Edu and/or Haven. If you haven't, there is still time!
First time undergraduate and transfer students complete Alcohol Edu + Haven
First graduate students complete Haven ONLY
If you can't find the email with the link or you need help, contact Samantha Smith (
samsmith@umbc.edu
). 
Stop by the Office of Health Promotion any time this week for a give-a-way and resources!!