What's New
This site is no longer actively maintained, but is provided for archival purposes. For more information about UMBC learning analytics, visit doit.umbc.edu/analytics.
DoIT News Moving to myUMBC Groups
July 3, 2012

As of today, the DoIT News will be published through the DoIT Group on myUMBC, which in turn feeds the new DoIT site at doit.umbc.edu. As such, we will no longer be maintaining this Movable Type blog. However, it will remain for archive purposes.
FYI to DoIT Group members:
How do I post a new blog in myUMBC groups?
If you have questions, please contact the Technology Support Center (TSC) located on the first floor of the library next to the RLC or call 410.455.3838.
UMBC Featured in BbWorld Developer's Conference Keynote
July 11, 2011
UMBC's Check My Activity (CMA) feedback tool for students featured prominently in a keynote talk by John Fritz at the Blackboard World Developer's conference today.
IHE Journal Publishes Article on Check My Activity Tool for Students
February 24, 2011
The Internet and Higher Education has published an article about UMBC's Check My Activity (CMA) tool for students in its special issue on web mining in education. For more information, see the following:
Fritz, J., Classroom walls that talk: Using online course activity data of successful students to raise self-awareness of underperforming peers, Internet and Higher Education, Volume 14, Issue 2, March 2011, Pages 89-97.
Educause Publishes Video Demo of UMBC "Check My Activity" Tool for Students
February 4, 2011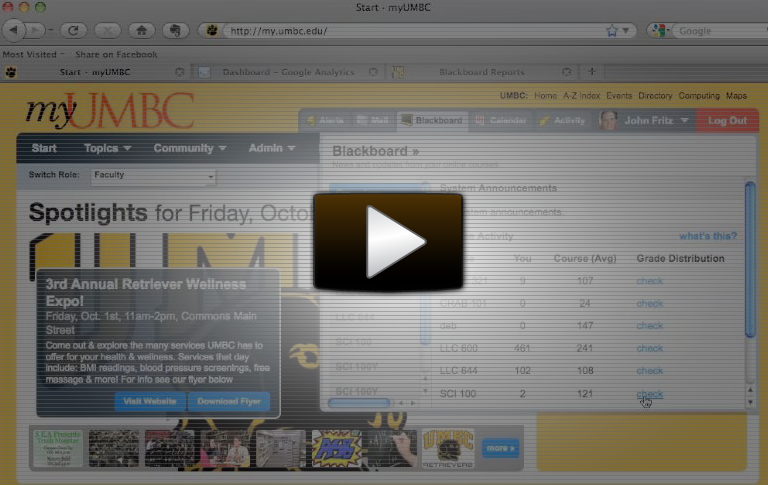 The final 2010 issue of EDUCAUSE Quarterly includes a brief (5 minute) video demo of UMBC's "Check My Activity" (CMA) tool for students. The CMA demo was part of EQ's special focus on student retention, and includes new information comparing how students use Blackboard by final grade distribution in all 1,461 Spring 2010 Blackboard courses. Specifically, D & F students used it 47 percent less than students earning a C or better, which is similar to results from previous semesters based on much smaller samples. A similar analysis is being conducted on all Blackboard courses for Fall 2010.
A Case for Using The Blackboard Grade Book
May 19, 2010
In 2008, a national study of more than 30,000 seniors and freshmen at more than 100 colleges and universities (including UMBC) reported that students value the ability to check their grades far more than any other function in a course management system (CMS) like Blackboard. Yet, less than half of UMBC's Bb courses used the grade book this past fall and spring. We understand why: it takes a little time to master the Bb grade center, faculty may prefer to use Excel functions in an "offline" mode, and there may be a reluctance to put a grade on everything students do. But apart from keeping students from constantly pestering faculty, an active Bb grade book can be "leveraged" in some interesting ways.
Show All News